Marimatha nigrofimbria - Hodges#9044



(Black-Bordered Lemon Moth).



Size: approx. 10-20 mm. Photo: 08/10/11, 8 pm.
Found throughout the Eastern US and Texas. This is a Black-Bordered Lemon Moth (Marimatha nigrofimbria). Its bright yellow color, black border, and dark spots are characteristic for this genus. It belongs to the Owlet Moths Noctuidae that are the largest family in Lepidoptera with more than 35,000 species worldwide. For information on this family follow the third link.


bug guide (this photo):
http://bugguide.net/node/view/560860
moth photographers group:
http://mothphotographersgroup.msstate.edu/species.php?hodges=9044
wikipedia:
http://en.wikipedia.org/wiki/Noctuidae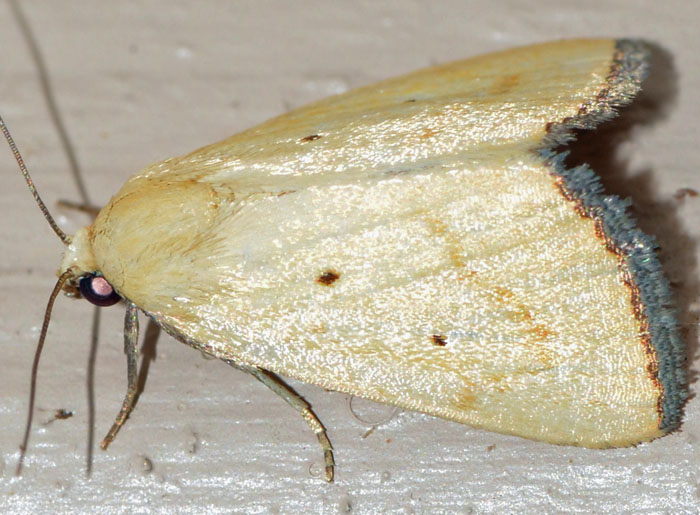 Marimatha tripuncta - Hodges#9045.



Photo: 08/12/14, 10 pm.
This species looks very similar to its sister M. nigrofimbria but in Florida it is the only species with a visible postmedial line. The name giving three spots are not always visible. The range of M. tripuncta is limited to the Caribbean and Florida.


bug guide (this photo):
http://bugguide.net/node/view/976875
Ferris, LaFontaine, ZooKeys 39: 117-135, 2010:
http://zookeys.pensoft.net/articles.php?id=2172